Today's polishes are for my 1st day of Spring nail design, so I chose peach and white.

Here's a review of the polishes that I used: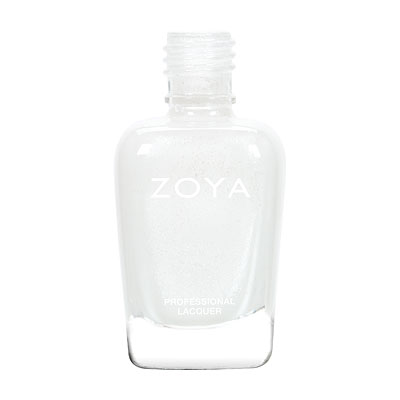 Formula: Great formula, applies easily. A little streaky, but not too bad, but you have to make sure your 2nd coat is very even for the streaks to not be visible.
Opacity: It's a 2 coater, but with white polish, that is too be expected.
Brush: Love the brush, it fans out very nicely, able to get nice clean lines at the base of the nail.
Finish:
(cool tone) Finish is glossier than I expected since some micro-shimmer in it.
+Zoya Nail Polish
describes it as "
crystalline white with a micronized metallic pearl finish - designed to look like micro-fine diamond dust!" My first thoughts were it looks like snow, while the sun is shining on it. Love the final look and gloss, even though "mocronized metallic pearl finish" does not really translate to the nail...it's very subtle.
Recommendation: You should buy it!!! Unless, you really want the metallic pearl finish to be highly visible.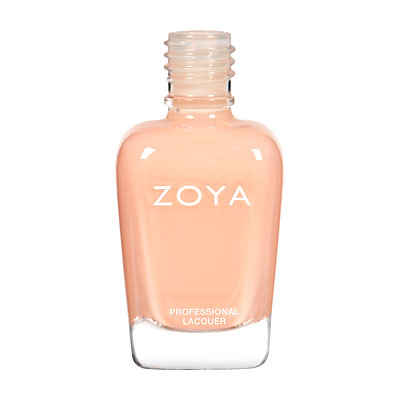 Formula:
Perfect formula!!! Applies like butter, and can easily paint on even, thin coats without hardly any mess.
Opacity: You need to apply 3 coats for maximum opacity. It really is not meant to be opaque, as it is listed in the "French" and "Nude" color families on Zoya's website. Because it is not an opaque polish, if you normally just rock clear polish, 1 coat of this will add a hint of warmth to your nails and have them looking naturally amazing! Also, this shade is pretty much a dupe for the new Naked Manicure Color Perfector in Buff. (Buff is my favorite.)
Brush: Perfect...it fans out just right. Which allows you to get clean and crisp lines at the base of the nail.
Finish: (warm tone) You could totally go without a top with Lulu!! It has a super, candy-like glossy finish, which just makes this color look even better. This just may be my new go to, when I can't decide what to wear.
Recommendation: It's a must have if you love that subtle peach shade! Great for the "au-naturel" look or you can build up to be opaque.
What polish colors are you going to be rocking this Spring?
Share your "nailfies" with me at the
Polished At All Times
Google+ community. Or use the hashtag #PolishedAtAllTimes on any social media platform.
Stay Polished at All Times!!!

Want to see the polish application? Check out my Polish Review video: