Here's the review of the 6th polish from the Zoya Petals Spring 2016 Collection.

I'm reviewing this polish separately because I'm using this in an upcoming NOTD. So, let's get to it.
Leia by
+Zoya Nail Polish
(white, metallic, neutral)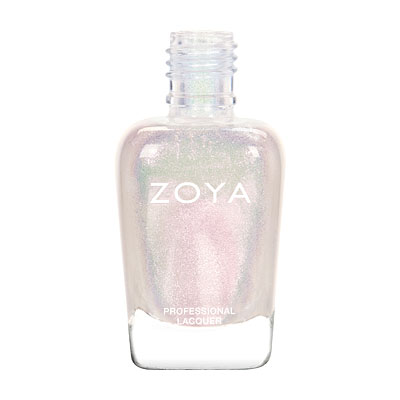 Formula:
OMG!! This formula is absolutely flawless. It applies like butter with hardly any mess. If you do get it on your skin I recommend cleaning up immediately, as the shimmer makes difficult to clean up once dry. The formula is the perfect consistency.
Brush: Perfection. Fans out perfectly every time, delivering amazingly clean lines at he base of the nail.
Opacity: to reach full opacity (no visible smile lines) you need three coats. But the opacity at 2 coats is sufficient. It is labeled as a 3 for intensity on Zoya's site, so it's not meant to be completely opaque. And I am fine with that.
Finish: it's dries very quickly to a glossy finish. Not as glossy as the creamed from this collection, but still glossy. According to their website, it is described as "a sheer, opalescent white with flecks of fuchsia, green and gold." I agree with the description, except I do not see any green nor gold, just the fuchsia.
Recommendation:
I give this a 5 out of 5. I LOVE everything about this polish. This one is a must have in every polish lovers collection.
1 coat
2 coats
2 coats
3 coats
Here's the video application of Leia: