Hello everyone! Here's my next review of the Zoya Sunsets collection...and if you haven't seen or read my other reviews this collection is a must have!

Liv by +Zoya Nail Polish (purple, cream, cool tone)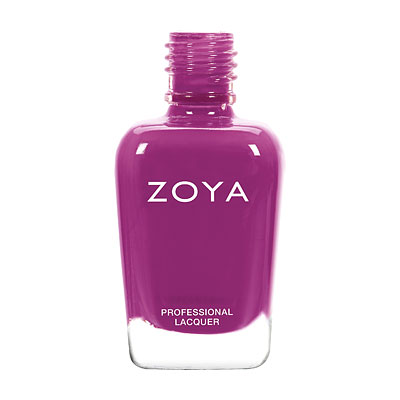 Formula:
This formula is absolutely flawless. It applies like butter with hardly any mess. The formula is the perfect consistency.
Brush:
Perfection. Fans out perfectly every time, delivering amazingly clean lines at he base of the nail.
Opacity:
(4) to reach full opacity (no visible smile lines) you only need 1 coat, regardless of the base coat you use. This is the 2nd most opaque of the 6 in the collection.
Finish:
it's dries very quickly to a glossy finish. According to their website, it is described as "a fun-filled purple that is seriously saturated and makes a statement! Great on any skin tone, with or without a tan." I have to agree with the description. And it is true to color, what you see in the bottle is what you get on the nail
Recommendation:
I give this a 5 out of 5. I LOVE everything about this polish. For some strange reason, I do not wear purples very often, but this shade right here (🙌 😍 💅 )...OMG, I can see myself wearing Liv very often. Zoya really hit it out of the park with the Sunsets collection. I am in love!! Just go get this entire collection, you won't be disappointed!
What are your favorites from this collection? I would love to know. Comment. Like. Share!

Here's the application video!